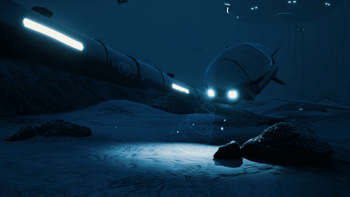 Aker BP challenged us to help conceptualise their vision for the future. Our approach was to take the viewer on a visual journey into the "The Field of The Future", where we tell the story about how we got there based on the values that Aker BP stands for today.
This resulted in a creative collaboration where we challenged Aker BP back, and asked them to put away previously held conceptions from how the offshore industry operates. What if the field of the future doesn't look like anything we're familiar with today? What if it's as different as the iPhone was to the original phone, or SpaceX's renewable rockets are to the original space shuttle? Oil rigs today has a bad reputation, so we knew that to make an impact, we had to do something radically different.
​​​​​​​
We started with familiarizing ourselves with technologies Aker BP envision for the future of offshore, from autonomous drones, self-repairing robots, big data, AI and much more. All this was boiled down to one key concept; autonomous platforms offshore with a "digital twin" for monitoring and operations on land.
In our concept design process, we explored numerous ways to make today's platforms look more green and futuristic, but after multiple attempts, we felt like the x-factor we were looking for was still absent and we decided to take a step back and think about how a fully autonomous, digitized platform in a way comes to life. What if an oil platform was a living being? What would it be?
The answer was found in an unsung hero in nature's ecosystem that share many similarities with our platforms – the mushroom. It breaks down dead organic matter and return vital nutrients to the soil, bringing value to many aspects of our lives. It's design is simple, recognizable, mysterious and almost alien, like something from the future.
​​​​​​​
Our final concept; we combined design inspired by nature with tomorrow's technology to create the platform of the future, and a symbol of what the field of the future could be. A platform that operates on its own, with drones and robots doing research, repairs, remote operations, and harvest energy from solar, wind and hydro powered solutions, with humans operating the digital twin, safely on land close to their families.
The mushroom  functions as an geographically autonomous base of operations for the drones. It can also connect to other mushrooms; sharing information, reports, solutions to problems.
Helping each other with additional drone support, analysis, and material supply.
This is what we defined as "The Field Of The Future".
Produced for AkerBP by MYREZE
Project Lead:

Björn Myreze


Creative Director:

Kent Løset


Art Director:

Bendikt Myklebust


Director:

Espen Horne


Director / Script: 

Ingrid Williams


Storyboard Artist:

Madelein Granberg


3D & Unreal Lead:

Karoline Holm


VFX Supervisor:

Martin Lavik Nygaard


Grade & Edit:

Christoffer Møgster


Motion Graphics & VFX:

Mathias Birkeland


CG Artist:

Øyvind Engevik


CG Artist:

Henning Tvedten


CG Artist:

Tom Riise


CG Artist:

Daniel Liljar


CG Artist:

Anders Borg


CG Artist:

Stefan Björn